Academy of International Business and Marketing
Students participate in a curriculum in either international business or international marketing focusing on logistics. Both strands offer dual enrollment courses which allow a student the opportunity of earning college credit while in high school. Students will be involved in a project-based curriculum to prepare them for the workforce or college. Students may select Chinese or Spanish as their foreign language.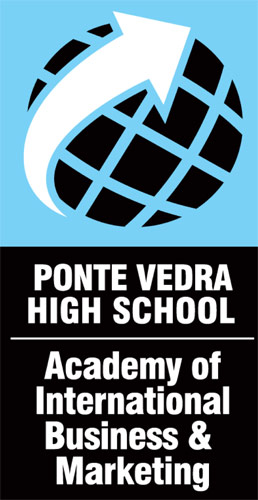 Congratulations to our first year students in the Academy of International Business and Marketing!  141 students earned the Microsoft Office Specialist (MOS) certification during the 2020-2021 school year.  This represented 91% of our first year students.  Great job by our students and teachers!
Junior,  R. J. Redick, won second place in the Virtual Electronic Career Portfolio Competition at the State FBLA Competition.  He will now go on to represent Ponte Vedra High School and Florida FBLA at the National Competition this summer.
Congratulations to Mrs. Lankford, DECA Advisor, and the DECA club for their win at District during their first year.  Students competed in a range of areas including, Marketing, Presentation and Public Speaking, among others.
The Academy of International Business and Marketing FBLA Club recently prepared for District Competition.  84 students qualified for the Performance Events and 16 qualified for the Objective Test Events.  After the competition at Florida State College Jacksonville campus, a total of 80 members won a spot to continue on to the FBLA State Competition in Orlando …
Ponte Vedra Future Business Leaders of America Heading to State Competition! Read More »
Academic WorldQuest is a Flagship Program of the World Affairs Council network. It is a team game testing competitors' knowledge of international affairs, geography, history and culture. There are currently more than 40 local competitions held around the country and the winners of these local competitions are invited to compete in the National Academic WorldQuest …
PONTE VEDRA HIGH SCHOOL ACADEMY STUDENTS ARE ON A 'WORLD QUEST' Read More »
Marisa Leonard, Career Specialist
(904) 547-7350