Academy of Biotechnology and Medical Research
Students participate in a rigorous college preparatory curriculum with a strong focus on math and science. Students will participate in valuable hands-on curriculum designed in partnership with the Mayo Clinic. Students will have access to a comprehensive research lab and a greenhouse. The skills learned will prepare them for any medical or science related field. Students will have the opportunity to earn college credit through Advanced Placement courses.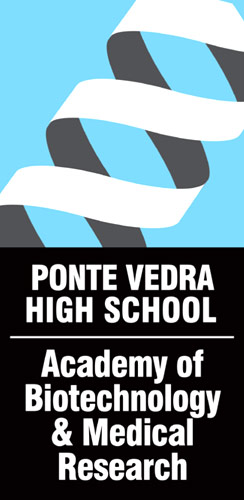 The Academy of Biotechnology and Medical Research will seek to engage, excite, and educate students about the promise and challenges of biotechnology through inquiry-based methods of instruction and advanced curriculum while addressing social and ethical issues in one of Florida's premier growth industries.
Members  of HOSA Megan Landis and Ella McCarthy prepared an award winning poster detailing the health profession of Neurosurgery.   Placing first at the HOSA State Leadership Conference, they will represent Florida at the International conference to be held virtually at the end of June.
The biotechnology academy's team of Gigi Choan, Ellie DeVault, Camryn Hansen, Averie Brannigan, Victoria Cunningham and Rylie Cornwell placed third in the CTE project innovation competition in St John's County.  The team proposed genetically modifying ornamental plants to increase the number of chloroplasts.  The goal is to increase photosynthesis and thus reduce carbon in the …
Biotechnology students place 3rd at Project Innovation Read More »
Aiden Fong, Andrew Kupcha and David VanLue place third at the Sunshine State Science Fair, after placing 1st in the River    Regional East fair's in the Medicine and Health Sciences. Their project tested for Water-soluble antimicrobials compounds in primitive herbal remedies.
Will Watkins uses new pipet aid to prepare stock antibiotics used in agar selection plates.
Marisa Leonard, Career Specialist
(904) 547-7350