Academy of Biotechnology and Medical Research
Students participate in a rigorous college preparatory curriculum with a strong focus on math and science. Students will participate in valuable hands-on curriculum designed in partnership with the Mayo Clinic. Students will have access to a comprehensive research lab and a greenhouse. The skills learned will prepare them for any medical or science related field. Students will have the opportunity to earn college credit through Advanced Placement courses.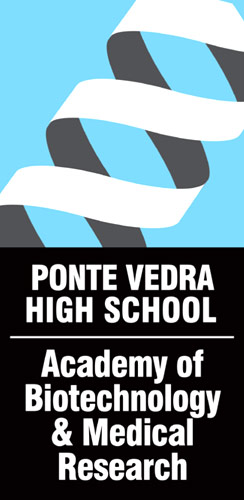 The Academy of Biotechnology and Medical Research will seek to engage, excite, and educate students about the promise and challenges of biotechnology through inquiry-based methods of instruction and advanced curriculum while addressing social and ethical issues in one of Florida's premier growth industries.
Biotechnology I students headed out for a  Field Study  to GyoGreens and PV Community Center to hear about Mosquito Control on January 10th. 20 first year students attended and learned about sustainable agriculture in Ponte Vedra Beach.   GyoGreens shared its practices of  a sustainable farming method which combines traditional aquaculture (raising aquatic animals – fish – in tanks) …
PV Academy of Biotechnology & Medical Research Goes "Green" Read More »
Academic WorldQuest is a Flagship Program of the World Affairs Council network. It is a team game testing competitors' knowledge of international affairs, geography, history and culture. There are currently more than 40 local competitions held around the country and the winners of these local competitions are invited to compete in the National Academic WorldQuest …
PONTE VEDRA HIGH SCHOOL ACADEMY STUDENTS ARE ON A 'WORLD QUEST' Read More »
Two School Superintendents and the Chair of the Department of English and Applied Linguistics at De la Salle University in the Phillipines came to the United States for three weeks to learn about the American style of education and teacher training. They traveled to a number of states during that time. On September 22, 2017, …
Phillipines Educators tour PVHS Career Academies Read More »