St. Johns County Aerospace Academy
St. Augustine High School has partnered with the finest aviation and aeronautical university in the world, Embry-Riddle Aeronautical University, to provide students with a concurrent enrollment model that offers:
Dual enrollment courses
Weighted high school credit
FAA-approved training
Classes are taught by Embry-Riddle professors at St. Augustine High School. Students have the opportunity to:
Save up to $10,000 in tuition at ERAU
Earn free college credit up to 12 credits
Learn flying techniques using flight simulators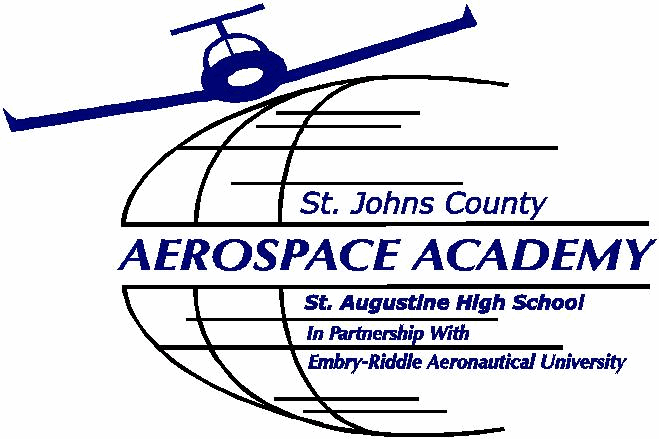 To provide a small learning community for students to explore careers in aerospace. Students will develop skills to become career and college ready.
World-Class Curriculum
Courses include both high school-level introductory classes and Embry-Riddle college courses. Courses may include:
Aerospace Technologies I
Aerospace Technologies II
Aerospace Technologies III
Principles of Aeronautical Science
Unmanned Aircraft Systems
Internship Opportunities
Business partners provide opportunities for students to understand the relevance between education and work-based needs. Each year juniors and seniors are offered opportunities to intern with local aviation-based businesses that may include:
Northrop Grumman Corporation
Carlisle Interconnect Technologies
Jacksonville University
Florida Flyers/SAM Maintenance
Old City Helicopters
Northeast Florida Regional Airport
Passero and Associates
Florida Aviation Career Training
Todd Otto II is a 10th grade student at St. Augustine High School, and St. Johns County Academy scholar extraordinaire.  Todd has made the strategic choice to enroll in not one, not two, but three Career Academy Programs: Academy of Law and Homeland Security, Aerospace Academy, and Junior Reserve Officers Training Corps (JROTC).  His interests …
Embry-Riddle Campus Visit St. Johns County Aerospace students from St. Augustine High School visited Embry-Riddle on February 12th for a tour of the campus. The students are currently taking Embry-Riddle dual enrollment courses through the Aerospace Academy and 6 have already been accepted to attend Embry-Riddle next fall.
Seven teams of 4 students each from the St. Johns County Aerospace Academy at St. Augustine High School are designing and building drones.  Next they will have a competition to see which can fly the longest or highest.  Stay tuned…
174 students from the Engineering and STEM-related Career Academies attended the NE FL Construction and Career Day on February 13, 2018 at the Jacksonville Equestrian Center.  Over 100 businesses participated in this three day event to expose students from the northeastern FL counties to careers in the construction and transportation industries.  The booths were very …
Students from the St. Augustine High School chapter of the Technology Student Association placed eighth at the annual TSA National Conference in June. The team — made up of Logan Conlon, Noah Law, Justin Miller, Edward Gilbert and Ryan Schmidt — competed against the top three competitors from each of 49 participating states in the video game design category.