Stellar Academy of Engineering
The Stellar Academy of Engineering was formed in partnership with Stellar, a fully integrated firm focused on design, engineering, construction, and mechanical services worldwide headquartered in Jacksonville, Florida. This rigorous program is designed to prepare students for high-skill, high-wage, high-demand careers in multiple fields of engineering. The Stellar Academy of Engineering is the only academy in St. Johns County which allows students to explore multiple disciplines in the industry. Students are taught by instructors with real-world engineering experience, use the latest industry design software, AutoCAD, and utilize project-based learning as they progress through a series of Engineering Pathways courses. The academy works closely with the University of North Florida's College of Engineering, to help ensure that our students are best prepared to move on to higher education after completing the four-year Academy curriculum.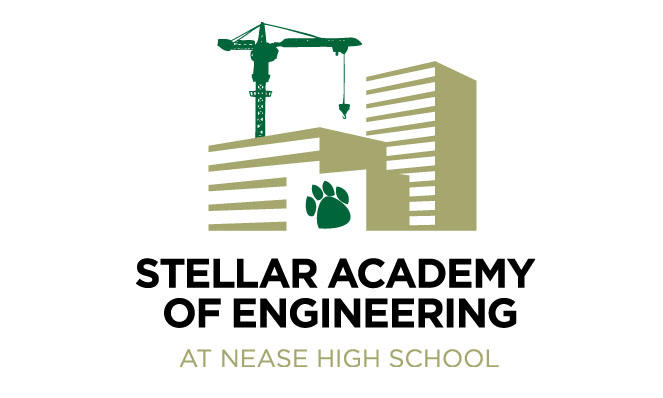 The Stellar Academy of Engineering provides high quality curriculum which exposes students to aspects relevant to the engineering field. Through business and academic involvement, students gain the knowledge, skills, and abilities to excel academically, socially and professionally.
Stellar Academy of Engineering students traveled to the Fleet Readiness Center Southeast, located at Naval Air Station Jacksonville, to tour the F/A-18 Hornet Strike Fighter Aircraft Production Line.  The trip was organized by Stellar Academy of Engineering Advisory Board member Alexis Alexandris, and allowed the students to get a first-hand look at how the jets …
Nease's Stellar Academy Students Learn About Aircraft Engineering Read More »
Within Nease's Stellar Academy of Engineering, Communications Academy, and the St. Johns County Academy of Hospitality and Tourism, the relationships between the Academy programs and the business partners provide a variety of opportunities to help expand our students' education through assemblies, field trips and competition judging. 
On December 5th, 9 young ladies with Nease's Stellar Academy of Engineering took their engineering skills and knowledge to Pacetti Bay Middle School, to run a STEM event with 8th grade girls.  Led by Academy Instructor Morgan Hunter, the ladies participated in a gingerbread tower building contest.  Prior to beginning the competition,  Ms. Hunter, who …
Stellar Engineering Academy Students Share STEM Skills with 8th Grade Girls Read More »