Students participate in a rigorous and relevant program of study which focuses on one of three strands: Interior Design, Drafting, or Fashion Design. Students will explore their creative talents in decor and fashion design, as well as, gain valuable carpentry skills. Post-secondary opportunities are available through the Florida State College of Jacksonville and University of North Florida.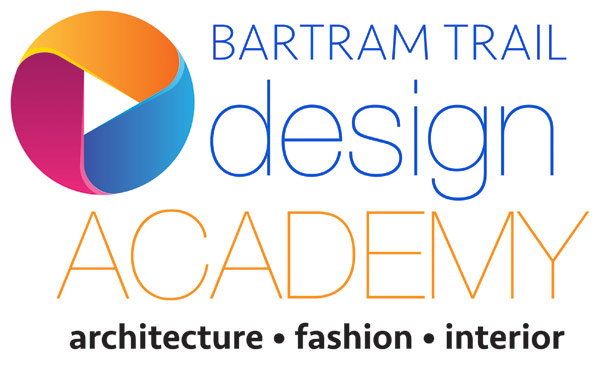 The Design Academy strives to provide a relevant curriculum combined with industry exposure via business partners thereby allowing students to gain knowledge, confidence, relationships, and sense of community.
We know our Career Academy teachers are great, but we love it when others agree with us.  Joy Dorst, Architectural Design teacher in the Design Academy is the 2018 Outstanding Teacher of the Year at Bartram Trail High School!
174 students from the Engineering and STEM-related Career Academies attended the NE FL Construction and Career Day on February 13, 2018 at the Jacksonville Equestrian Center.  Over 100 businesses participated in this three day event to expose students from the northeastern FL counties to careers in the construction and transportation industries.  The booths were very …
Juniors in the Drafting strand of the Design Academy at Bartram Trail High School are working on a "Mixed Use Request for Proposa"l to redesign the Jacksonville Landing on the St. Johns River.  On a recent field trip, the student teams reviewed possible options and developed initial drawings of their proposed design.  When the project …
BTHS Juniors Working on Redesigning the Jacksonville Landing Read More »
Bruce Watts is a sophomore in the Drafting strand of the Design Academy at Bartram Trail High School.  He wrote and sang a rap song recently at an Academy breakfast to help teach other students shortcut keystrokes for use when using AutoCAD to make architectural drawings.  It was a big hit and very helpful to …
Rap Song a Unique Way to teach AutoCAD Keystroke Shortcuts Read More »
About 100 students from the Construction and Engineering-related Career Academies in St. Johns School District attended the Northeast Florida Construction and Career Day held on March 28, 2017 at the Equestrian Center in Jacksonville.  Five other school districts also participated.  Sixty-five businesses set-up interactive programs for the students to learn more about the variety of …
  Fashion Academy Juniors participated in the "Love your Mother" Eco Fashion Show on Saturday, 9/24/16, at the Volkswagen Dealership on US1 in St. Augustine.  The students made their outfits out of all recyclable material.  All funds goes to charity and the event raised more than $50,000.
Students from Career Academies tied to the arts and entertainment programs and Digital Design programs at St. Augustine (Aug. 30), Bartram Trail (Aug. 31) and Creekside (Sept. 1) High Schools were able to tour the mobile bus that explains all of the majors at Full Sail University in Orlando.  Each major had interactive technology for …
Full Sail University brings their mobile classroom to SAHS, BTHS and CHS Read More »
For the second year, the Career Academies of St. Johns sent students in academies related to engineering and construction to the NE FL Construction and Career Day held on April 5, 2016 at the Equestrian Center in Jacksonville. Over 100 businesses had interactive booths to expose students to a wide variety of careers in the …
Congratulations to Louis Danner and Pierce Talbert who competed at the FBLA State Leadership Conference in Orlando on March 20.  Louis won 3rd place in the Securities & Investments event and Pierce won 4th place in the Introduction to Information Technology event.  Louis and Pierce will now represent PMHS and the state of Florida at …
Charles Moseley, middle school computer education teacher of Introduction to Information Technology, won the St. Johns County School District Teacher of the Year for 2015! Charles runs his class like a business and students assume responsibilities for the various class initiatives. His students have a high success rate in passing Microsoft Office Industry Certifications. He …
CTE Teacher from SPMS receives 2015 Teacher of the Year Award for SJCSD Read More »
Mikayla Oko and Supiya Palli qualified to participate in the International DECA Competition, which will be held in Orlando in April 2015. Approximately 17,000 high school students and their advisers will attend this conference. To earn this, Mikayla placed 5th in the Marketing Management State Competition and Suprya placed 6th in Entrepreneurship Franchise State competition. …
St Augustine, FL, October 19, 2014:  Congratulations to Bartram Trail Design Academy boatmen! Please congratulate Kai Merten and Patrick Tybor for placing third in the 2nd Annual Quick and Dirty Boat Building Competition, held this weekend at the Fountain of Youth in St. Augustine. This was the first year that BTHS participated and they were …
Bartram Trail participates in the Quick n' Dirty Boat Building Competition Read More »
Gainesville, Florida, October 6, 2014: The Upperclassmen in the Architectural Design Academy and the Interior Design Academy attended a tour of the University of Florida Design College on Monday. There were 18 students that participated. The students were able to tour the Interior Design Studio, the Landscape Architect Studio and the Architectural Design Studio. Students …
The Design Academy travels to the University of Florida Read More »