VyStar Academy of Business and Finance
This Academy provides students with a rigorous business program that includes relevant concepts and skills that are transferable to postsecondary education and/or the workplace. Students graduating from this academy will leave Pedro Menendez High School with a well rounded education in general business principles, employability skills, on-the-job training, and a completed online portfolio documenting their qualifications. All business programs within the academy articulate to the St. Johns River State College and all four-year university programs with a business major. Students may earn college credit through institutional exams, portfolio review, sequenced courses, and/or dual enrollment.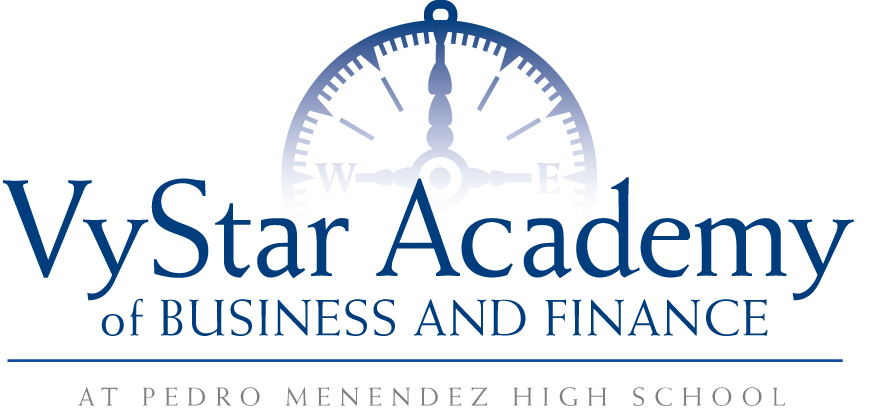 VyStar Academy of Business and Finance at Pedro Menendez High School is committed to providing a rigorous curriculum for students interested in careers in business.  Through project-based learning, students will gain the knowledge and skills to excel academically and professionally.
Inspired by the SkillsUSA Signing Day event that began in 2019, Pedro Menendez High School celebrated 24 top-tier senior academy students on May 13th.  Much like an athletic signing day, this event allowed academy seniors to sign their letters of intent to post-secondary training programs or the workforce.  Students committed to nursing programs, collegiate schools …
Pedro Menendez Hosts Its First Annual Academy Signing Day Read More »
The Pedro Menendez High School VyStar Academy of Business held a promotion through the on-campus credit union to help boost member enrollment.  Students hid 4 leaf clovers around campus and any student that found those clovers could exchange them for prizes and gift cards.  The VyStar interns took these opportunities with the lucky winners to …
Congratulations to some our Future Business Leaders of America Regional Medalists.  All are currently competing in state level competition.
Students from Pedro Menendez High School VyStar Academy of Business & Finance have returned from the Future Business Leaders of America (FBLA) State Conference. This year Menendez FBLA sent 8 competitors and delegates to the state leadership conference to compete in 6 different events. Congratulations to Alyssa Moxon, Madison Wittmer, Walker Sims, Scott Jeffrey, Pierce …
PMHS VyStar Academy students attend FBLA State Leadership Conference Read More »