Four Academy of Biotechnology & Medical Research students were selected for the elite SPARK program at Mayo Clinic this year after an extensive selection process.  Below is the feature story from First Coast News highlighting the work of PVHS Academy student, Emma Kee.
http://www.firstcoastnews.com/news/health/pilot-program-lets-high-school-students-conduct-research-with-mayo-clinic/452927201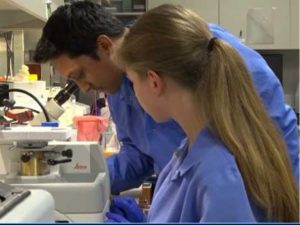 The SPARK Research Mentorship Program at Mayo Clinic's campus in Jacksonville, Florida, provides selected  high school students in  St. Johns and Duval  counties mentored research experiences in world-class laboratories. This program enables students to develop a basic understanding of scientific research and produce a highly competitive science fair project.
SPARK is a Science Program for the Advancement of Research Knowledge began in the summer of 2017 as an opportunity for students to be mentored by some of the top researchers in the world.
Students interested in biomedical science and enrolled as juniors or seniors for the upcoming school year in either  School District or a member of the Joe Berg Seminar Series, will had an opportunity to apply to the program.   Those selected are designing  and carrying  out research projects within the Discovery and Translation Labs at Mayo Clinic's campus in Jacksonville, Florida, for science fair competitions.
A minimum of 20 lab hours per week (weekdays and weekends) was required during the summer break for a successful project to be completed for the science fair competitions. When school resumed, students have continued a schedule that was set up between the students and faculty mentors, working evenings and weekends on the research.   On November 20, students will present their work thus far at 5:00 in the Kinne Labs at Mayo.