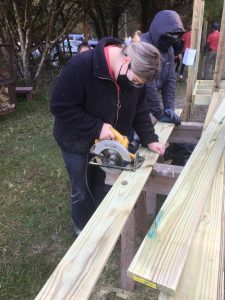 Students in the Engineering strand of the Academy of Engineering and Environmental Sciences at Creekside had the opportunity to travel to Hastings, Florida, where they built a wheelchair accessibility ramp for a disabled veteran's home. This project was represented by St. Johns Housing Partnership and was separate from and unaffiliated with Creekside and the Academy of Engineering and Environmental Sciences.
This project provided students with a hands-on experience that does not normally take place during standard education hours. Students were able to work with post hole diggers, circular saws, reciprocating saws, and pneumatic nail guns. This work experience allowed students to reach outside of their comfort zones, work with a team, and present a tangible finished project.
Another aspect of the project that students learned from was the proper application and use of PPE. Safety glasses were necessary whenever power tools were in operation, and gloves were worn during the cutting and handling of wood.  Considering the recent COVID-19 pandemic, limitations were enacted on this project to conform with CDC guidelines. Masks were worn, social distancing was utilized when possible, and standard safety precautions were followed.