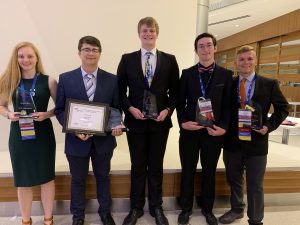 Nineteen students from Creekside High School attended the FBLA National Leadership Conference in San Antonio, Texas this summer after advancing from the Florida State Leadership Conference/Competition held earlier this year.  Each state could enter their top four participants for each event.  Creekside is proud to announce their national finalists:
Michael Frenk placed 1st in Data Security
Spencer Reagan placed 3rd in Help Desk
Teegan Bailey, 2019 graduate, placed 5th in Future Business Leader
Elyse Soracco placed 6th in 3D Animation
Michael Frenk placed 6th in Computer Problem Solving
Clay Carter, 2019 graduate, placed 10th in Networking Concepts
FBLA has over 60 competitive and skills events from the areas of technology, public speaking, communication, business, finance, and management.  More than 9,500 of America's best and brightest high school students traveled to San Antonio, Texas to Create. Lead. Inspire. as they competed for the opportunity to win more than $179,000 in cash awards.  The top ten competitors in each event were recognized at the 2019 National Leadership Conference Awards of Excellence Program on July 2, 2019.