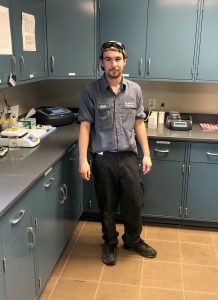 The Florida Section of American Water Works Association (FSAWWA) established a High School Academy Program in 2013 to prepare the next generation of water and wastewater professionals.  This was the beginning of the Coastal & Water Resources Academy at St. Johns Technical High School. FSAWWA began with two high schools and have now increased to five throughout Florida. The Academy Program partnership includes FSAWWA, high schools, and industry representatives from the water and wastewater treatment field.
Recently, FSAWWA published an article Florida Section Program Preps High Schoolers for Water Treatment Jobs. The article highlights the success of an alumnus from the Coastal & Water Resources Academy, Mathieu Schloss.
Our Academy receives a generous grant from FSAWWA each year along with professional, technical, and mentorship support throughout the school year. We are grateful to FSAWWA, our Advisory Board members, and our business partners for their support since 2013.  Their unwavering commitment to the Academy leads to technical skill development and successful employment outcomes for our students. 
"We are happy to be a business partner with the Career Academies and look forward to more success stories like we have in Mathieu Schloss (SJTHS Alumnus)."  Tony Cubbedge, Environmental Division Manager, St. Johns County Utility Dept. and Academy Advisory Board Member