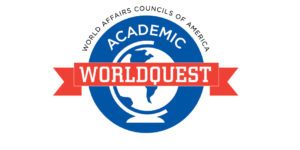 Academic WorldQuest is a Flagship Program of the World Affairs Council network. It is a team game testing competitors' knowledge of international affairs, geography, history and culture. There are currently more than 40 local competitions held around the country and the winners of these local competitions are invited to compete in the National Academic WorldQuest  held in Washington, D.C. each Spring.
This year, The Admiral T. Howe Academic WorldQuest Competition was held on Wednesday, November 1, 2017  at The University of North Florida.
 Ponte Vedra Academies entered 3 combined teams to take on 59 teams for intense competition that went into 4 playoff rounds.   The Sharks finished strong with  2 teams in the top 10 and all three placing top 20!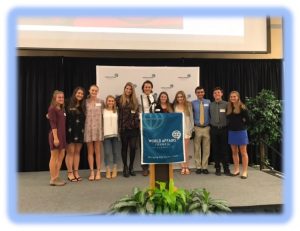 Sharks 1   (Daniel Kessler, Elizabeth Fox, Harrison Snowdon, Deven Malone)                         7th Place                             
Sharks 2   (Kerin Karolewicz, Brandon Cotto, Maddie Paris & Sophie Pineau)                          9th Place
Sharks 3      (Anne Auchter, Chloe Faver, Ally McCormack, Anna Chattaway)                           11th Place  
The students and teachers enjoyed a delicious meal and recognition at the event!